Steel Blue Boots
100% comfort... for whatever game you're in!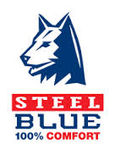 Footwear has an enormous influence on the way feet move yet, so many overlook the importance of a proper well cushioned shoe. The body uses natural methods to decrease the forces of impact and absorb shock in the lower part of the Body. Generally, it is considered that a shoe is required to reduce the forces further.
Steel Blue has been devoted to developing the most comfortable work boots with Trisole Comfort Technology, absorbing more shock and providing cushioning for the feet from day-to-day fatigue.
When you wear a pair of Steel Blue boots, we guarantee that you'll experience:
Reduction of shock forces to the feet, knees, hips and lower back (similar to the feeling of wearing sports shoes).
Improved flexibility of the sole.
A feeling of wearing lightweight footwear.
Reduced risk of stress-related injury to the feet and lower body.
Greater comfort and overall wellbeing.
---